Chia's World Wide Web Tour
I'd love to perform for you...
( tl;dr experimental + participatory + ambient networked website performances/workshops/talks by chia… looking for physical/digital spaces to go on a world wide web tour )
I'm looking to conduct performances, workshops, or talks – remotely or in-person (mostly in the US)... going on 'tour' across the world on the web.
Think of this upcoming work as somewhere between a performative reading (treating the browser as a concrete poem), a durational performance (featuring every visitor who leaves their mark), an ambient show (focused on immersion, deep listening, embodiment—and I do play live ambient music at many of them), and maybe even a prayer.
This page has the most comprehensive listing of my presentations given so far, and my site index more information on my body of work as an internet ambient artist. I've been organizing, gathering, and teaching on the web in various capacities since I was making websites at age seven. Now I want to bring a new body of experimental, networked performances that touch on intimacy, love, technospirituality, etc. further...
My experiments in born-browser work draw from situated internet ambiences, where the (web)site is a world providing emergent possibilities for gathering in physical and digital realms. Lying between social practice and internet art with interest in stretching towards endurance, my work is interested in collapse, reinvention, vigorous revisitation – and thusly, worldmaking.

Outside from the improvisational and the work is living, continuous, and sustained: the happenings of these presentations are reinvented with every iteration; in material & conceptual dialogue with every activation; unique, contextual, and inherently communal.
( Interested? ) Contact chiamisola@gmail.com if interested, or to send recommendations over.
Get a document version of this web page.
( Note to friends ) Please join me in these events! Let me know if you're around or have spaces in mind – let's organize and make things happen, making space for ourselves. Intimate coffee shop ambient + readings / performances & a dinner party / bringing portable projects to an abandoned warehouse... Let's work together ♥
---
A preview of Bisita, a shifting multi-channel web tour on repetition and religion...
Performance ♡
Poetic performances of browser art: participatory and communally-shaped, each work is unique each time; further, the (web)site-specific work is customized for each site, just as viewer participation permanently alters & imprints onto the content and look of each work.

Certain performances are accompanied with live ambient music (performed live by me, or with the user of another website piece).
This is largely a new body of work that I'm piloting… I performed an impromptu ~45 minute reading of We Are Only Moving Towards Each Other at DWeb Camp that instigated this interest, modified a net art piece for the HTML Review's Inspect Elements reading at La MaMa/CultureHub, and am in residency at Gray Area SF to develop this body of work.
( Timing ) Performances can range from 45 minutes – 90 minutes, one piece or several may be done on the bill.
---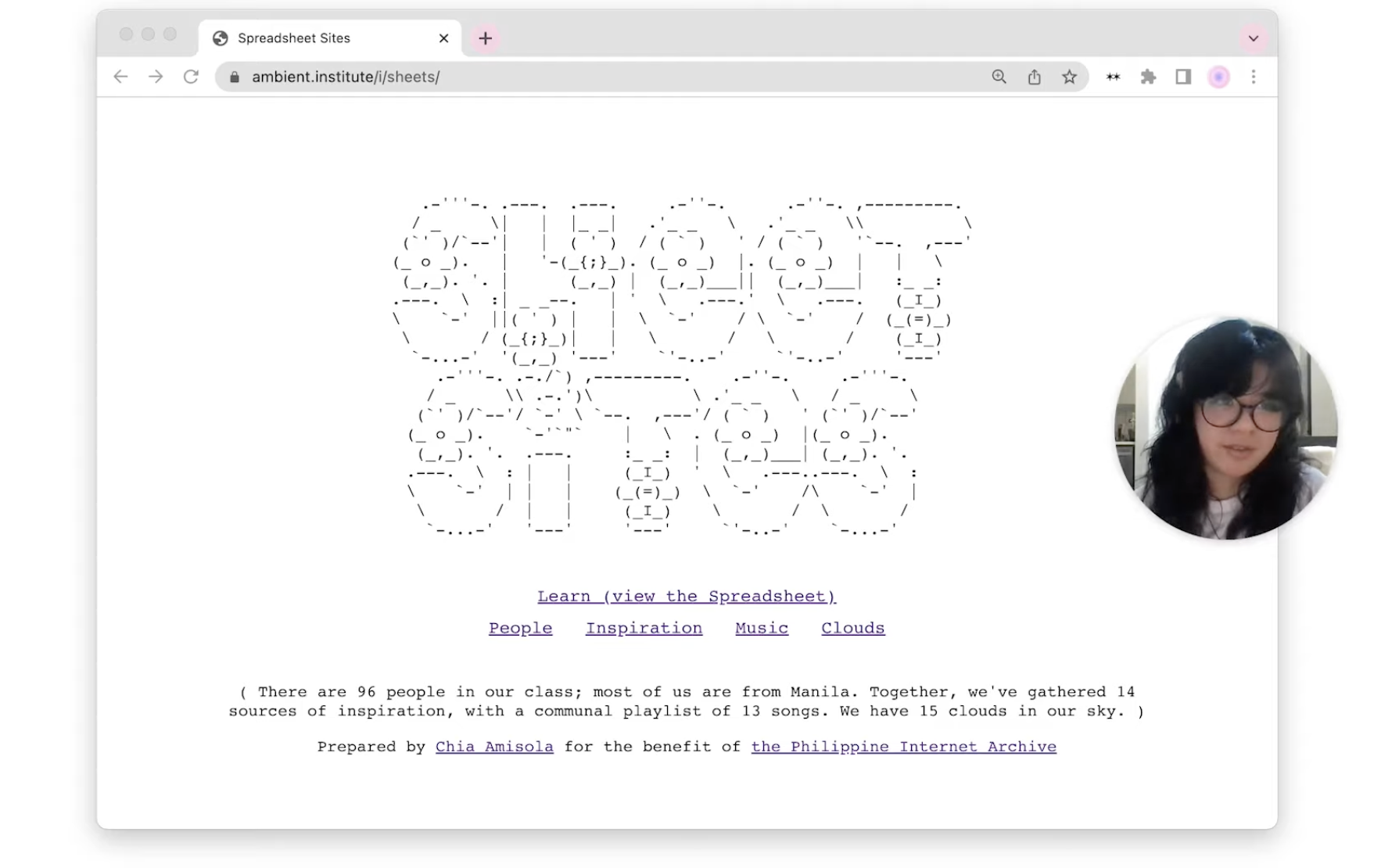 A tutorial I prepared on making Sheet Sites...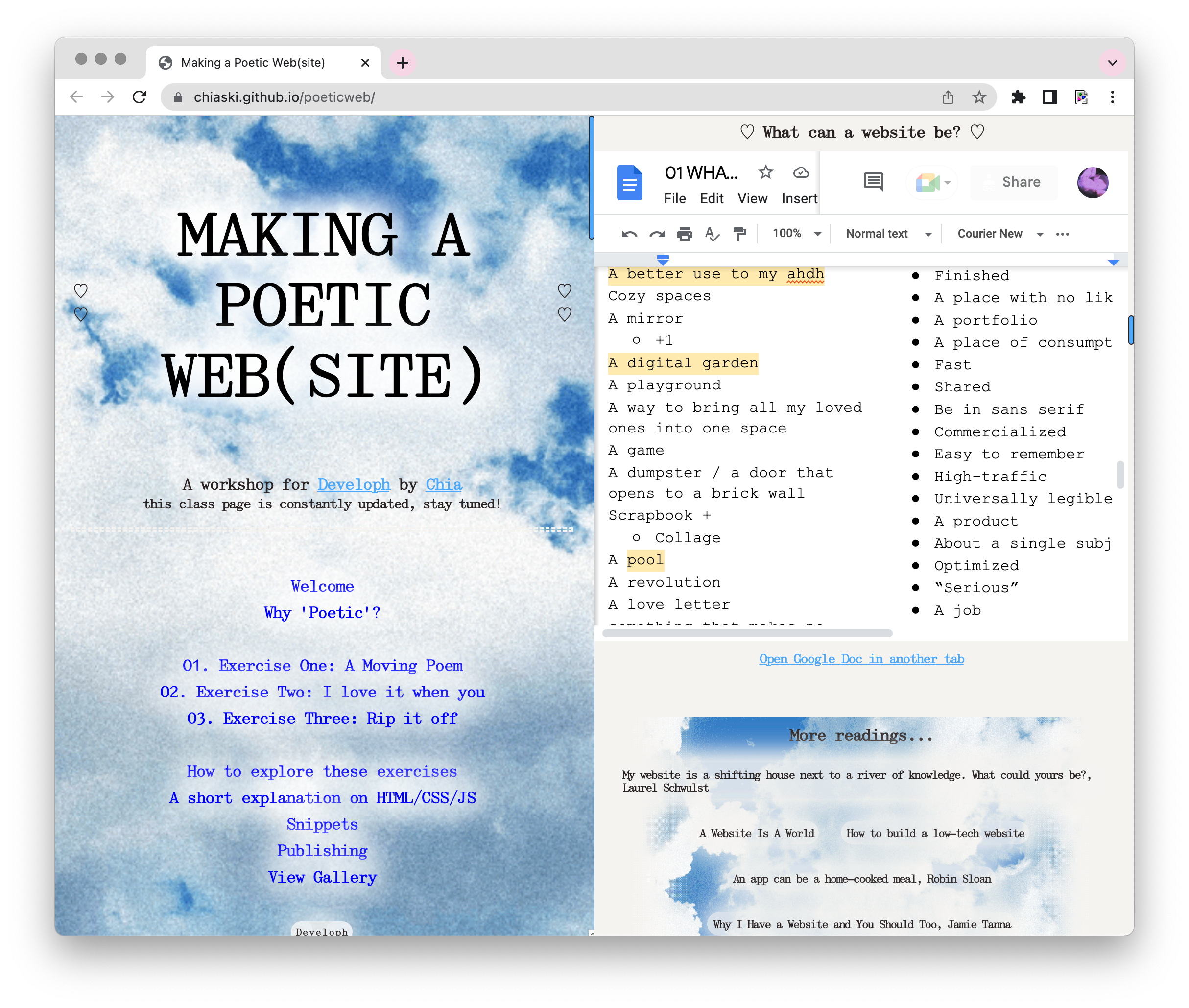 A workshop ...
Workshops ♡
I enjoy teaching experimental workshops, creating artifacts and sites that act as ever-expansive resources where the gathering doesn't end at the live activation.
( Samples )
Yet to be run, that I've begun preparing… (Feel free to contact me for further details.)
The End of a Website
On designing for preservation, decay, memorialization, and death in digital spaces with touches of technospirituality and link rot.
✧.*˚ ༘♡
On creating and designing alternative social spaces and new ways of networked being through (de/re)territorialization, ritualmaking, and gathering.
How to save yourself
On self-preservation as a practice of communal preservation through a series of practices for folk archival with hardware and software.
( Timing ) Online, these generally last 90 minutes. In-person could do with 120 minutes or more.
---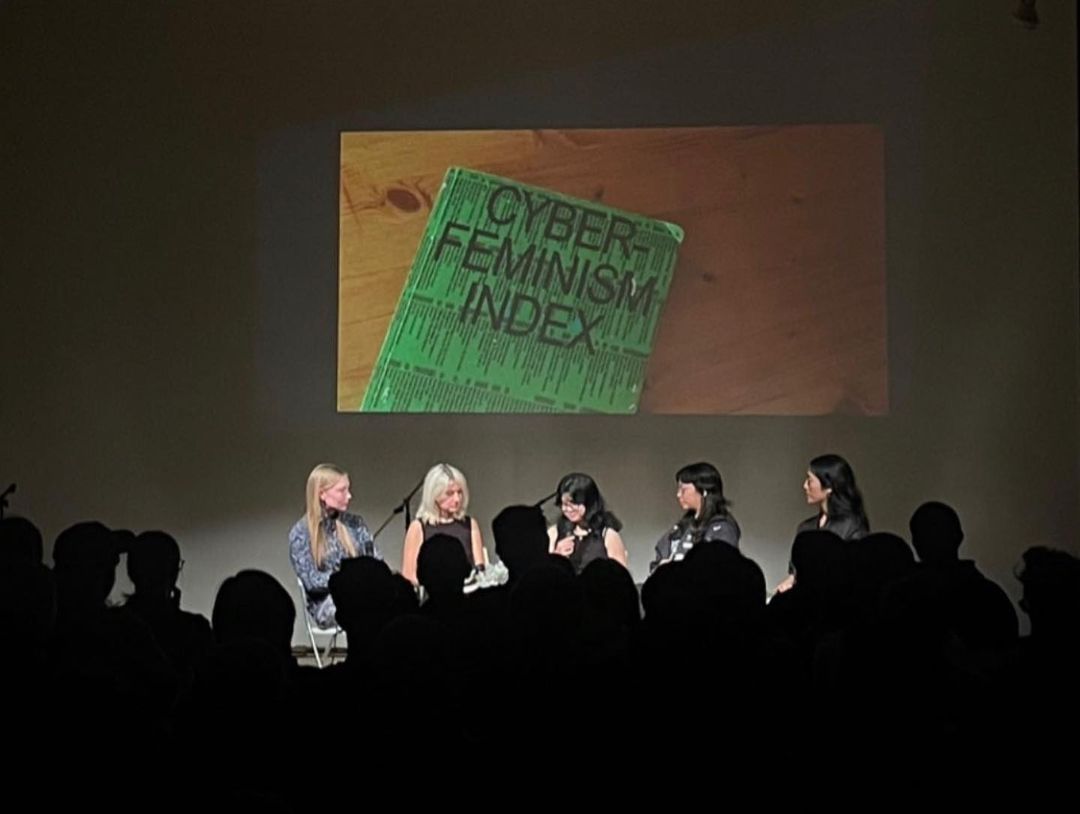 Paneling at the Cyberfeminism index...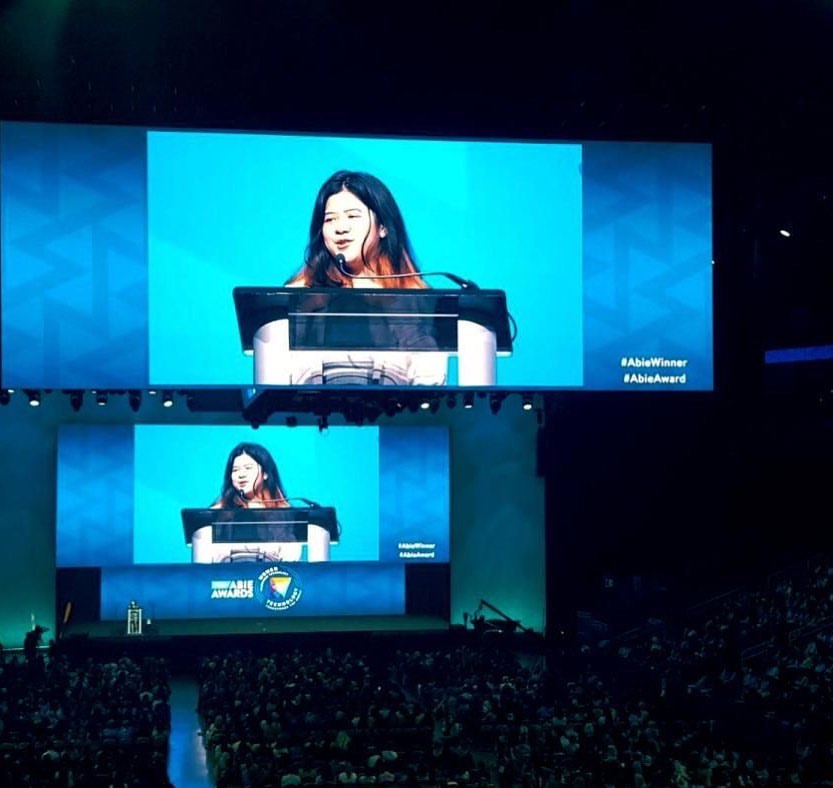 Speaking at the Grace Hopper Conference in 2018...
Talks ♡
I'm happy to experiment with new talks (or rerun older ones), give artists' talks, or more topic-specific ones.
Most recently, I've spoken at Figma's Config (for work), Causal Islands (where I put together a new talk on mythologization, authorship, and power called 'The Creation Myths of Computing') and WordHack, and paneled at an event celebrating a reading + performance of Mindy Seu's Cyberfeminism Index.
I've also given a guest lecture at the Yale University class 'Software for People', where I prepared a manifesto for (web)site-specific art and showcased my practice.
Since I was sixteen, I've been speaking at traditional technology events, where I enjoy giving experimental, conceptual talks that feel like artistic performance as a public synthesis of practice, beliefs, and speculation. (At eighteen, I spoke at the world's largest women in tech conference. Now I am not a woman.)
( Timing ) I can prepare talks for 20–60 minutes.
---
Logistics
( Space ) Your space, time, and community are my biggest asks. (I'm mostly putting this out because I'd love to find physical/digital spaces I could run these in!)
( Location ) I'm currently based in the Bay Area and may travel around the US. For international engagements, in-person could be possible with at least 3 months notice (depending on area).
Always open to remote engagements.
( Technical Requirements ) For in-person engagements, a projector/monitor, audio system (nice to have), and a desk (optional) would be great. Around the Bay Area, I also have a portable projector I can bring around myself to further add to the set-up. Online, Zoom/YouTube live or the like would be sufficient.
( $ ) I don't require compensation (and would prefer not to receive)... I prefer all events to be donation-based if possible (for access purposes) or to have some allocation of tickets be free. Proceeds may go to you + the space and its volunteers.
---
Testimonials
"stunningly hypnotic talk by @hotemogf @ @causalislands on the creation myths of computing. rich & dense yet light & flowing, left me both rapt and lost in thought. raised by internet cafes, borne into the deep responsibility of universal godhood vested thru the infinite canvas" @disconcision
"Any work that operates on the imagination by either maintaining reality or challenging it is inherently political" Design is political!!! Thank you @hotemogf for the incredible talk. #uxplus2021 @theuxdasein
"A talk/reflection/essay/dedication about ways of being and seeing with technology, delivered as a Catholic mass by Chia Amisola with bursts of smiles and laughs. I listened to it like a prayer, where the individual words and sentences fade in importance to give space for an ambience and self-reflection. Thank you, Chia." Kristoffer of Naive Weekly on the Creation Myths of Computing
one of the treasures I found this year at Dweb Camp was the work of hotemogf
"wishing to attend a conference entirely made up of talks by @hotemogf. every conference must ask them to speak and pay them handsomely! " @j_asminewang
The live session of the workshop was amazing and I learned a lot 🫶 Thank you for hosting it! @emilyzsu
"beautiful talk!! love the focus on mythology and tools terraforming our minds and souls; it's critical to acknowledge the ways in which technologists really do comprise a modern priestly caste, the power and accompanying responsibility. many of our ilk are loath to take ownership of this exalted social role precisely bc they fear it's implications on the duties they wish not to take on, but accepting it is prerequisite to building a world where technology not only serves and empowers normal people, but also decenters our own role. while it's not a question of morality or fault, the predominant paradigms of software architecture do both require and perpetuate the top-down power relations of modernity; changing the structure of the resultant world requires understanding the implicit paradigmatic assumptions generating it, identifying the salient characteristics of our technological systems, and dreaming up alternative modalities. really excited about these ideas being discussed and the types of projects my fellow attendees are working on" – gingervitiz
"I think I'm in love" – kiki
---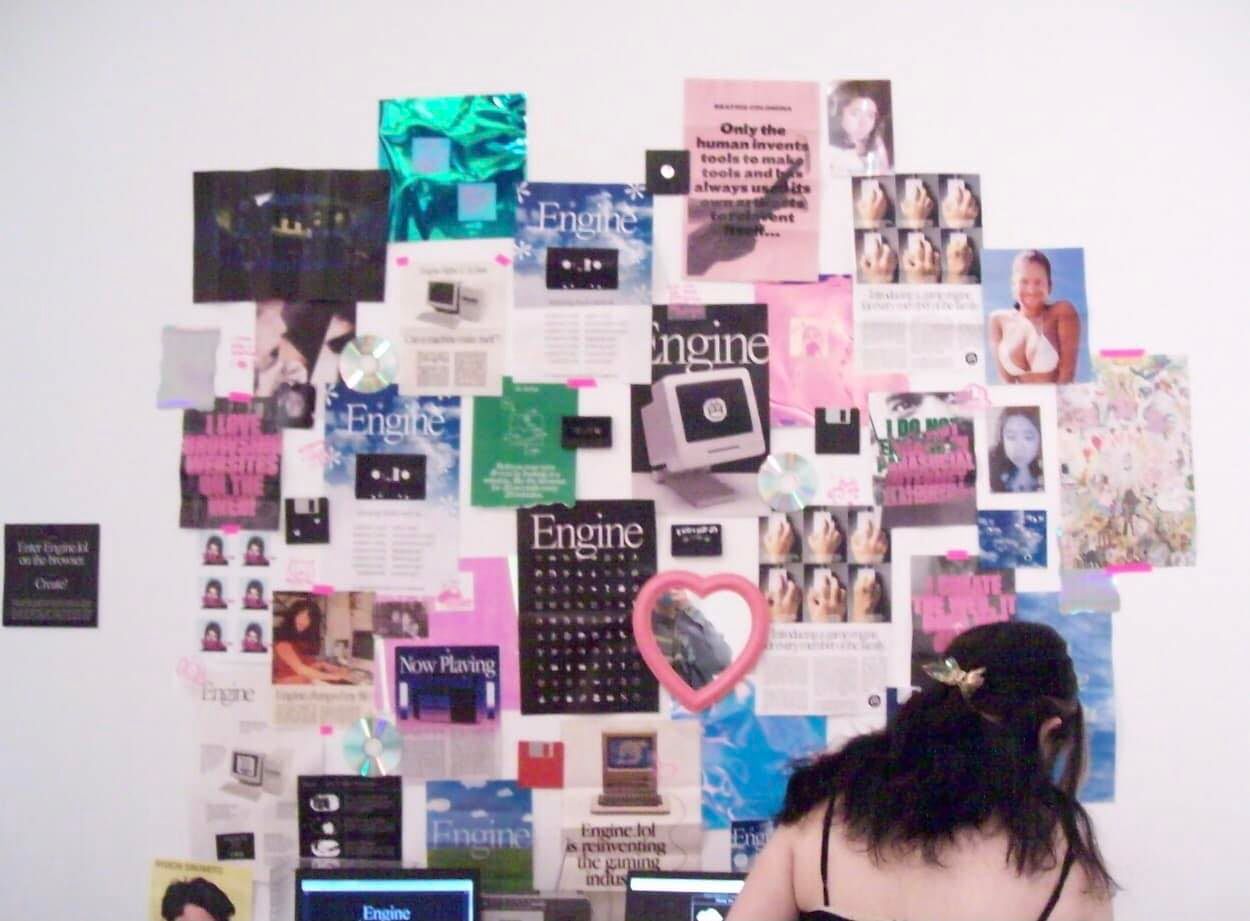 Temporary installation, with artifacts that visitors may grab...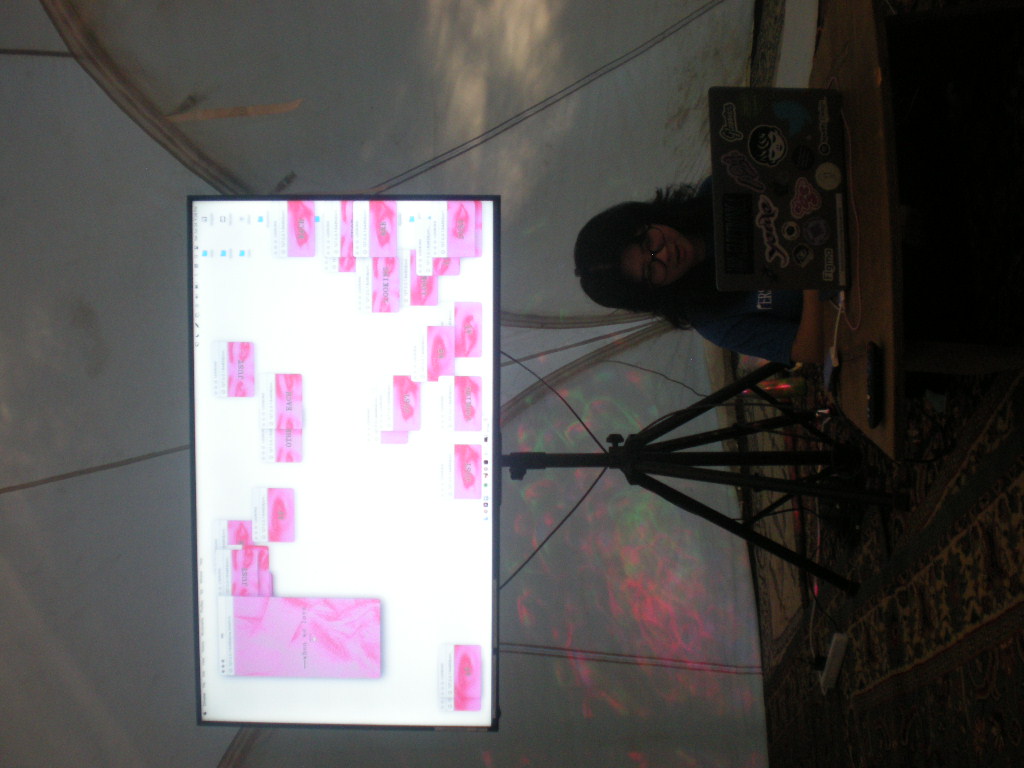 A reading at DWeb Camp...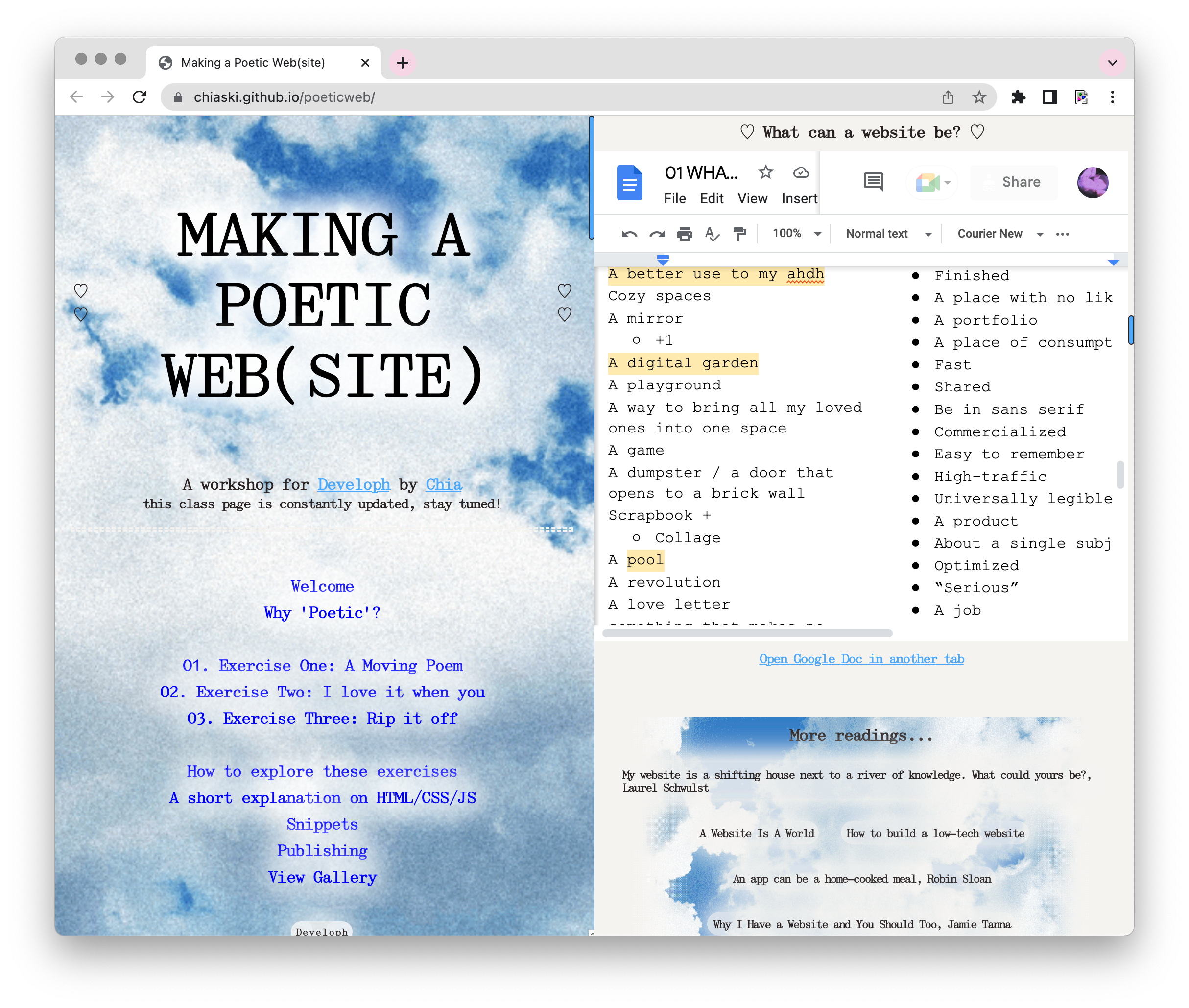 A workshop ...